What is a Young Carer?
"Someone who helps people. I help Grandma do her bandages as I am a little carer. I help Mummy and Daddy so it makes it quicker and then we can all play." (Reception Child)
"Someone who has to look after someone in their family. This can be hard and they might miss out on things but Mrs Hood organises special events for us." (Year 5)
"I enjoy being a Young Carer ambassador as it helps me think about different things we can do. Being a Young Carer can be quite tricky because I have to help my siblings when Mum is poorly. In school being a Young Carer can be fun as we do lots of activities together." (Year 4)
---
Carers' Week 8-14 June 2020
Are you a carer?
Am I?
Is your colleague?
Carers don't wear a badge and may not even label their role, but they're vital to our world. This Carers' Week, recognise our county's carerhomes and communities. Have a look at what's going on at www.Suffolkfamilycarers.org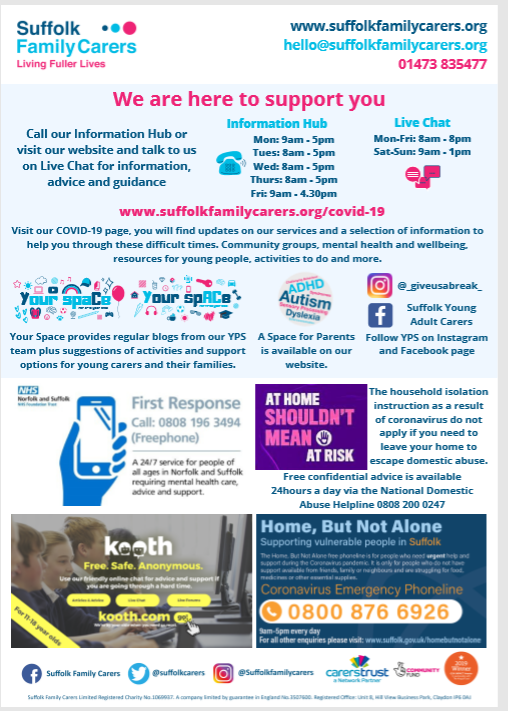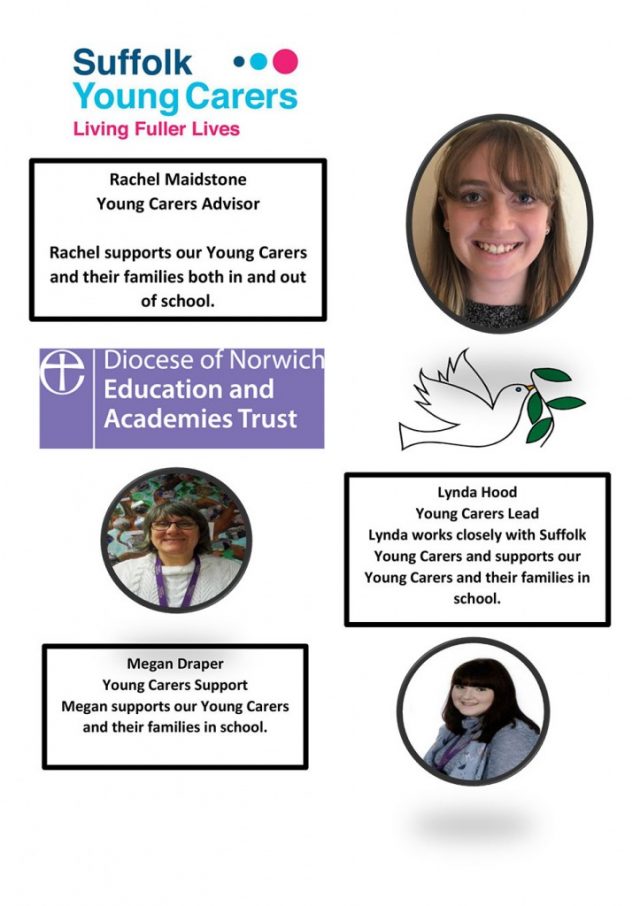 Our journey began in July 2015 when Kessingland Church of England Primary Academy was very proud to be selected as one of only four primary schools in Suffolk to pilot a new scheme. This scheme was to support Young Carers, including the under 9s.
At that time, many Young Carers remained hidden from official sight for a host of reasons, including family loyalty, fear of stigma, or simply not knowing where to go for support.
At Kessingland Church of England Primary Academy, we wanted to change that by offering our families the support they needed during those difficult times.
How do we support Young Carers?
Today the support of Young Carers is fully embedded within our school and we celebrate the work of our pupils in a variety of ways:
The Annual Young Carers Day, supported by Suffolk Family Carers
Personal invitations to half-termly VIP Lunches. These lunches have included 'Build your own sandwich' and 'How to make a healthy packed lunch'. We have also invited special guests, including a magician!
We held a special 'Mums and Sons' and 'Dads and Lads' lunch to promote boys' reading.
Art sessions to raise self-esteem.
Extra-curricular activities and residential visits, including Coracle building with families and Eaton Vale.
An Annual Young Carers week.
Willow Weaving sessions with a local artist
What do other say about our Support for Young Carers?
"There are a large number of pupils who are young carers, and leaders go the extra mile in order to ensure that these pupils are supported and celebrated throughout the school. Pupils talk knowledgeably, empathetically and affectionately about the large number of young carers they have in school. Pupils explained about the 'young carer week' the school held in which they experienced some aspects of what the expectations are for these pupils on a daily basis." (OFSTED 2017)
Lynda Hood (Young Carers Lead) was nominated by Suffolk Family Carers for The Raising The Bar Awards.
"Lynda has driven the school's involvement in developing their understanding and provision for Young Carers. She has established briefing sessions and training for staff, and co-ordinated a Suffolk Young Carers week. Lessons throughout the week looked at the pupils' understanding of the roles and responsibilities of a young carer. It concluded with a celebration assembly and a non-school uniform fundraising event for Suffolk Young Carers, and overwhelming positive feedback from the pupils. She now runs a thriving Young Carers Group, and supports Young Carers by attending respite activities organised by Suffolk Family Carers during the summer holidays."
Young Carer Support 2018-19
This year, Katherine Meadows, our Young Carers Advisor, came into school and presented a workshop for all Key stage 2 pupils on mental health. The pupils engaged in a variety of exciting activities, which enabled them to understand what is meant by the term 'mental health', understand that looking after our mental health is as important as looking after our physical health and begin the process of developing a self-awareness of their own feelings.
Our pupils most recently attended "A Day That Makes A Difference", bringing 100 local young carers together, so that they could meet like-minded young people, have fun, try new sports, learn how to recognise and manage their own well-being and find out about the different support services available to them, and their family members.
Achievements
Kessingland Church of England Primary Academy are also very proud to hold the Suffolk Young Carers Bronze, Silver and Gold Schools Award. Our aim is now to become holders of The National Young Carers Award, being launched soon. For us this is not about an award; it is a way of ensuring that the highest standards of provision continue to be made for our Young Carers.
If you wish to know more, please contact our Young Carers Lead, Lynda Hood or Suffolk Family Carers https://suffolkfamilycarers.org/