As a Church Academy, worship is an affirmation and celebration of our Christian ethos where children have the opportunity to learn, worship and grow in their understanding of God and of themselves. Worship in our Academy is not simply a statutory duty. We believe that at its heart, Collective Worship enables pupils and staff to gather together to respond to the presence, power and peace of God through prayer, reflection, singing, sharing and communicating feelings. Worship provides an opportunity for everyone at Kessingland Church of England Primary Academy to develop an understanding of Jesus Christ and God as Father, Son and Holy Spirit.
The aims of Collective Worship at Kessingland Church of England Primary Academy are:
To provide an opportunity to worship God
To enable children to consider spiritual and moral issues
To enable children to explore their own beliefs
To encourage participation and response
To develop in children a sense of community spirit
To promote a common ethos with shared values and to reinforce positive attitudes
Daily Collective Worship is led by: teaching staff, support staff, pupils, members of the local church and the local community. Our Collective Worship is linked to the Core Values and other Christian Values.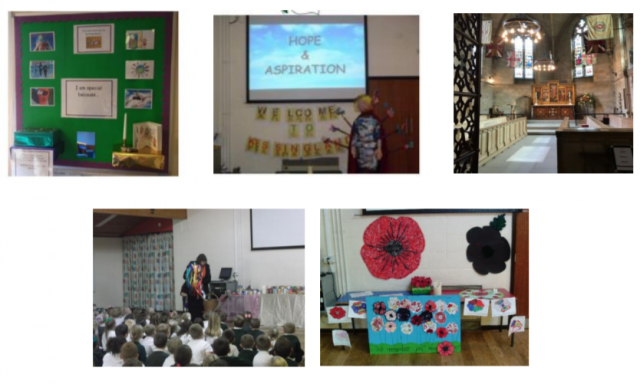 2021-2022 Themes for Collective Worship
Autumn 1
Autumn 2
Spring 1
Spring 2
Summer 1
Summer 2
Starting Well  

Something Fishy

Moses

Nehemiah  
All Saints  

Getting Along  

Waiting for Christmas  

Joy to the World  
Epiphany  

New Year

The Prophets  
Lent

Only the Brave

The First Easter
Miracles of Jesus

British Values
Pentecost

Aspire, Believe, Challenge

Our Values
Where does Collective Worship take place?
Collective Worship is an opportunity for the whole school to come together, although sometimes takes the form of class or key stage worship. It is usually at Kessingland Church of England Primary Academy, but on occasions takes place at St Edmunds Church, Kessingland. The children also have the opportunity to attend Collective Worship at Norwich Cathedral.
At Kessingland Church of England Primary Academy we have introduced Big Start Assemblies!
This combines value-based themes with stories from the Bible. They encourage strong all round development with important topics including friendship, anti-bullying, diversity, forgiveness and many more.