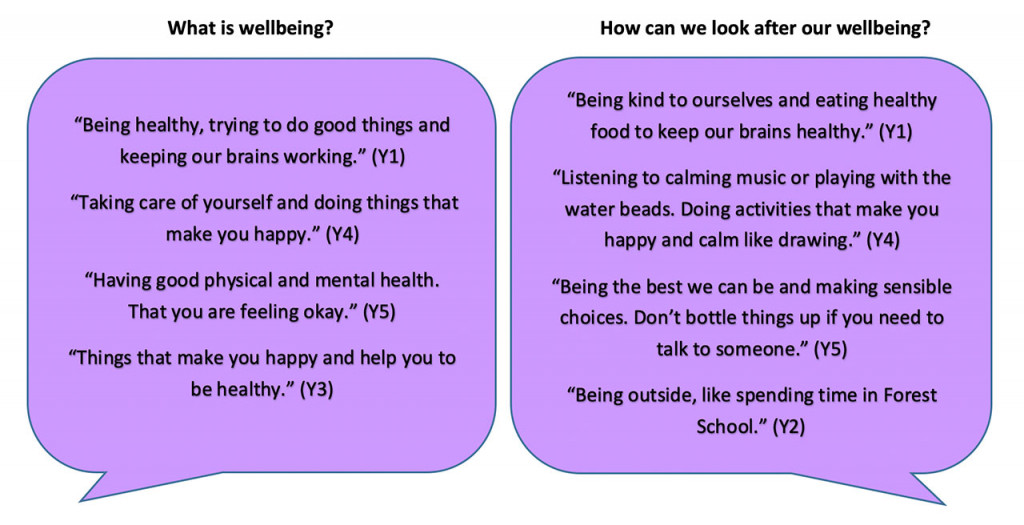 Mental health includes our emotional, psychological, and social wellbeing. It affects how we think, feel and act. It also helps determine how we handle stress, relate to others and make choices. Mental health is important at every stage of life, from childhood and adolescence, through to adulthood.
Every child's emotional wellbeing and mental health is prioritised by everyone at Kessingland Church of England Primary Academy. Good mental health is a vital part of a child achieving their full potential in all aspects of their life.
Miss Smith is our Designated Senior Mental Health Lead.
Mrs Cooper and Mrs Hood are our Mental Health First Aiders.
Here are some of the things we offer in school;
Emotional check in opportunities and daily pastoral support available for all
Use of 'The Colour Monster' and other aids to help pupils talk about their emotions
Helping children socially, to form and maintain positive relationships
Promoting self-esteem and confidence through positive praise and reward systems
Helping children to develop a 'Growth Mindset'
Individual, small group and whole class Thrive sessions.
Transition and social stories to support changes in school
Pupil voice via School Council, Librarians, House Captains and Young Carer Ambassadors
Mindfulness activities, Yoga and calming activities
'Skills for Life' lessons
Opportunities for each class to have weekly Forest School sessions
Extra curricular activities for all including Mindfulness club.
At Kessingland Church of England Primary Academy, we recognise the importance of forging links with other services to support mental health. The school teaches the importance of mental health and wellbeing as part of their RSE curriculum and provides opportunities for mindfulness activities to be interwoven throughout the school week. The school makes referrals where appropriate and implements advice and strategies shared by other professionals.
Children have opportunities to pay attention to the present moment – to their own thoughts and feelings and to the world around them. This awareness is known as 'mindfulness'. Mindfulness can help us to enjoy life more and understand ourselves better. It is proven to improve a child's ability to focus and can be a great help in times of stress and used as a way to calm down.
Useful websites
There are a range of organisations and groups offering support. Information for these can be accessed through the NHS' 'Just One Norfolk'. Compiled by the NHS and 'Children and Young Peoples' Health Services', this site has a section dedicated to 'Emotional Health' and also signposts to other agencies.
https://www.justonenorfolk.nhs.uk/
'Just One Norfolk' contact details: 'Just One Number' – 0300 300 0123
Provides support for parents and young people.
Parents Helpline: 0808 802 5544
Monday to Friday 9.30am – 4pm
Newsletters
Wellbeing-Newsletter-Summer-1-2022