Kessingland CofE Primary Academy held its first ever Multi-Faith Days on Tuesday 21st and Wednesday 22nd June 2016.
The aim of the event was to foster in pupils a curiosity for other cultures and ways of life as well as help them develop a greater understanding, respect and tolerance for beliefs which might be different to their own; thus promoting community cohesion in the long run.
The event started on Tuesday afternoon when twelve guest speakers representing 8 different faiths (Hinduism, Buddhism, Judaism, Islam, Church of England, Roman Catholics, Humanist, Quakers) made their way to Kessingland CofE.
THE ATRIUM DISPLAY WELCOMING GUESTS TO THE EVENT

THE VARIOUS WORKSHOPS

All the guests came prepared with a range of artefacts to bring their faith to life. Pupils were divided into 8 groups and learnt about 4 different faiths in the course of the afternoon so that they could draw comparisons between different beliefs.
THE "MAKE AND SHOW" SESSION

On the second day, pupils used the knowledge they acquired in the workshops to make artifacts and put together a presentation which they shared with each other at the end of the Wednesday afternoon.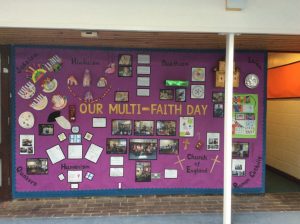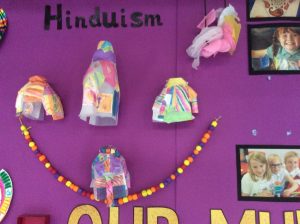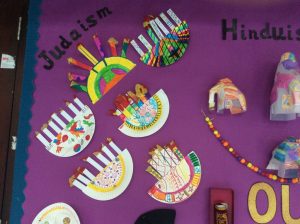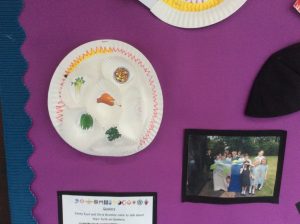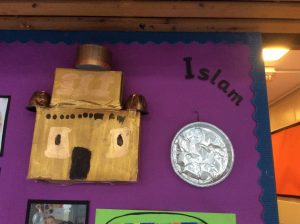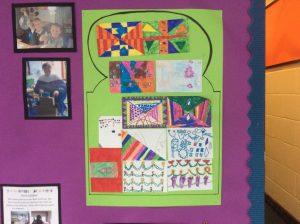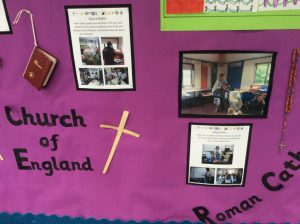 OUR LOVELY GUESTS WITH SOME OF OUR CHILDREN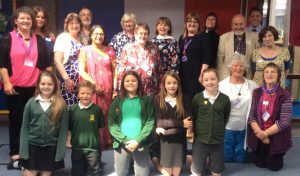 Thank you very much to all the Guest Speakers who attended.  and for their lovely comments.
GUESTS' COMMENTS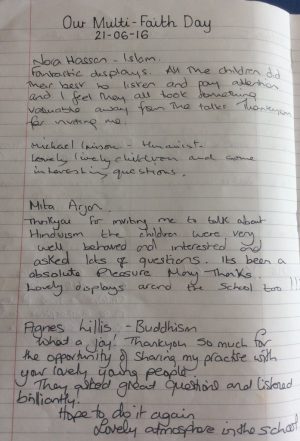 Extracts from emails received after the event
"Thank you once again for your warm welcome and hospitality.The photos have come out well.
I had wonderful time with the children who listened well and asked some thoughtful questions.
I am sure they have learnt a lot.  They displayed a sense of spirituality.
The table displays were lovely and as you so rightly say, it was delightful to meet and chat with people of other faiths" – Mary Hunt – Catholic Guest and Chair of Lowestoft Inter-Faith Group
"Blessings for all the thinking, planning and hard work you've put into making that day so productive! It was lovely meeting you, and I look forward to the next time.  In Friendship" – Jenny Foot – Quaker Guest.
"Thank for such a well organised and interesting afternoon" – Marsha and Todd Parker – Jewish Speakers
STAFF COMMENTS
"Just wanted to say thank you for the amazing afternoon! It really was incredibly interesting and the pupils in my group were all engaged and asked some truly well thought out questing across the key stages. It was a privilege to work with them this afternoon.   Congratulations on a fantastic event!" – Lynda Hood – Teaching Assistant – Safeguarding Lead and "Raising the Bar" Award winner
"Thank you for all the wonderful organisation on

Multi-Faith

Day. There has been a buzz of excitement all week (from staff and pupils!) and the follow up work on Wednesday showed how much the children had enjoyed and learnt. I have collated all the photos, feedback and work into a couple of books which I look forward to showing everybody"
.   Sarah Smith – Acting Deputy Head
"Another fantastic event that has put Kessingland back on the map!" – Adrian Crossland – Headteacher